I had a busy trip to the Falkland Islands in November and I want to thank all those individuals that helped make my visit so enjoyable – they know who they are!
I was surprised that many people recognised my face and stopped me in the street to say that they enjoyed OpenFalklands as it provided much more information about issues than they receive from local sources. I do hope that that can change.
Again, thank you all!
---
I gave a presentation at the Chamber of Commerce on Thursday, 28th November talking about the dire need for a fast local intranet and whether the doubling of satellite capacity would lead to an improved Quality of Experience at time of congestion. The presentation can be seen here. I then dashed off to spend a fabulous weekend on Bleaker Island to avoid possible brickbats and recuperate!
On the following Monday FIG called a meeting of the Falkland Islands Government's (FIG) Technology Development Board in the Liberation Room in Government House which had not met for twelve months.
I was invited to attend the notionally private meeting by a member of the Board as their Adviser but, when I was sitting in the room with some other members waiting for the meeting to start, I was asked to leave. What a shame, as this was an excellent opportunity for them to hear my views firsthand and for me to get an inside perspective of the National Broadband Strategy.
---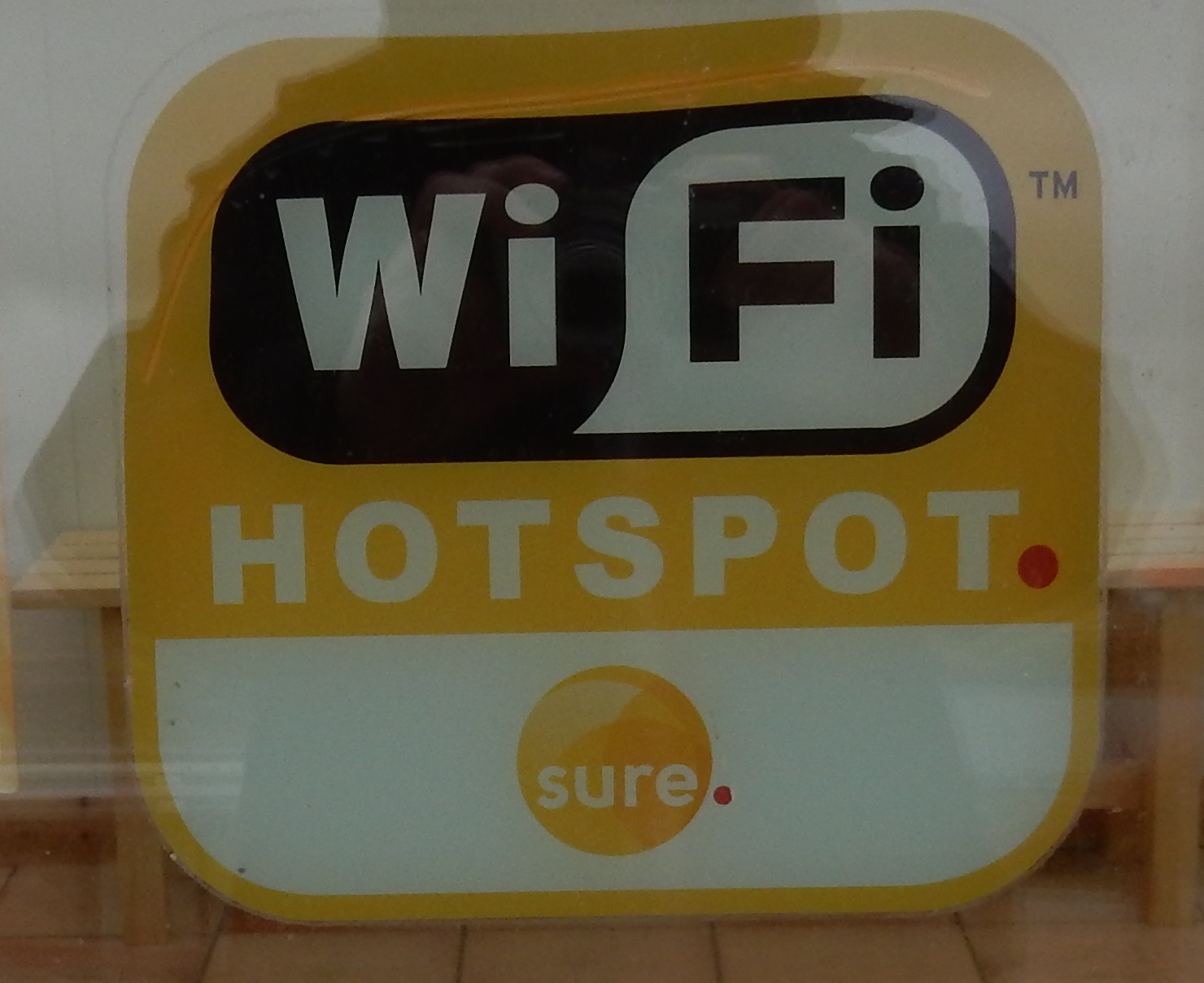 In this post, I'd like to focus on the islands' Wi-Fi Hotspots that, as a visitor, I had to extensively use.
My experience of using pre-paid Hotspot cards.
Sure Falkland Islands have located many Wi-Fi Hotspots around Stanley and on outlying islands to provide access to the Internet while out and about. Moreover, they have also placed many Hotspots throughout the Mount Pleasant military facility to allow members of the armed forces to access the Internet.
While on the islands, I spent much frustrating time using Internet Hotspots, which raised Quality of Experience issues that puzzled me – they still do. Let me try and explain why.
There are two ways of accessing the Internet at a Sure Hotspot. Their log-on page explains the two methods: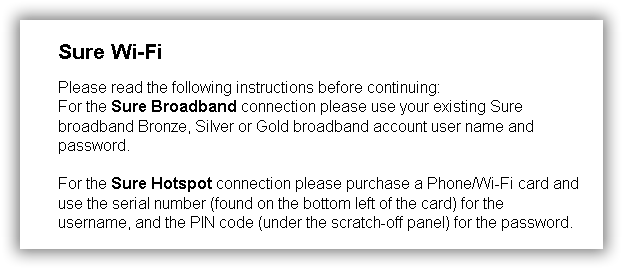 Text from Sure's Hotspot log-in page
There seem to be two different log-in pages and the correct one needs to be used, although the appropriate page was not always the one brought up by my browser. I could be wrong as I found the process quite confusing. A warning is also given about making sure you log out when ending a session. I have experienced using up all the value of the card several times in past years when I forgot this simple task as it based on time spent on the Internet NOT data usage. This concept works well for phone calls but less so for Internet usage. Sure's logout guidance states (Why isn't this URL hyperlinked on their web site?).
It is important to log out when finished. If you should lose the logout page, you can log out manually by visiting https://wlc.sure.co.fk/logout.html or by completely switching off WiFi on your device and you will be logged out automatically after 5 minutes.
Let's look at the £5 or £10 pre-paid Wi-Fi cards which can be bought from multiple places around the islands.
Sure's £10 WiFi Hotspot card
I arrived late one afternoon from MPA in November and I naturally wanted to download my emails and have a chat (using Telegram) with my wife back in the UK to say that I had arrived OK (The temporary A330 did not have reclining seats and had no in-flight entertainment!).
I logged into the service using the Service Number and PIN code supplied on the back of the scratchcard and this was achieved more or less instantly, but this is where my troubles started.
I spent half an hour trying to do the two simple tasks mentioned above with no success. I could not download any emails from our own SMTP email server and I could not make a call connection on Telegram. Indeed, trying to do anything seemed impossible as I could not even get Facebook to deliver me any posts other than a slowly rotating arrow as my 10p-a-minute card rapidly emptied. This could prove to be the most costly and frustrating exercise I had undertaken for quite a while!
Of course, this is nothing new for Falkland Islanders, but I found it quite beyond the pale. As I had achieved nothing, I wondered how much this had actually cost me – a part of my call history below says it all:

I immediately thought of using Sure's own Broadband Speed Test that can be accessed from Sure's Broadband page. What I saw can be seen below: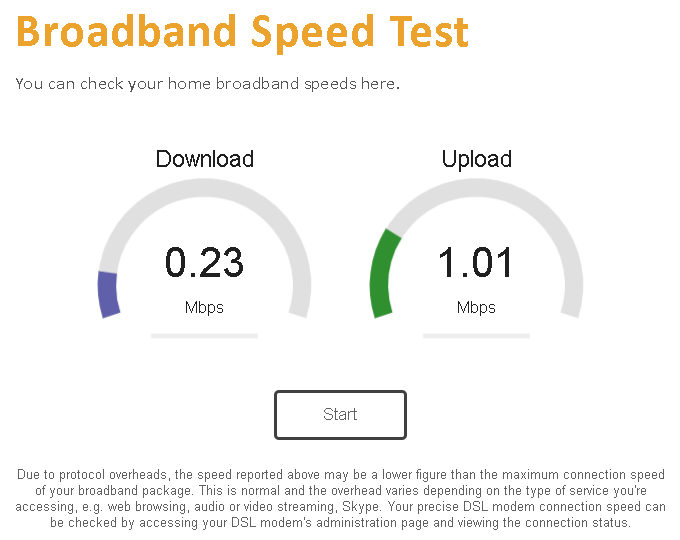 Sure's Speed Test using the pre-paid Wi-Fi card
This 'reversed' speed test results surprised me because I could not understand why the download speed was so low when I was the only person using the Wi-Fi Hotspot.
I thought the Sure Speed Test server was located at Sure's offices in Stanley. The Speed Test facility was provided to enable customers to check that their broadband service was correctly provisioned by Sure and that their maximum package rate was correct. To achieve this it had to be located in Sure's facilities in Stanley.
My first thought was whether the Sure Speed Test server was sill located in Stanley, so I ran a quick Ping test:

Ping the Speed Test located at Sure's offices in Stanley.
Yes! Sure's Speed Test server (legacy.sure.co.fk) was still located in Stanley, which is only a ten-minute walk from the Hotspot I was using. Excepting a few 'inaccessible' results, the server responded in less than 20mS showing that, yes, it was stillactually located in Stanley.
As I have also always assumed that there should be no congestion on Sure's local network I wondered why the download speed was so poor?
I was lucky enough for a friend on the islands to allow me to use their broadband service and after a few more attempts to download my email, I decided that I could not carry on using a pre-paid card, Of course, I promised NOT to use video in any form whatsoever!
My experience of using an islander's Broadband package on Hotspots.
With a sense of relief, I started to use the second method of accessing a Sure Hotspot described above using a Sure customer's broadband package. However, I was pretty amazed at what I found when performance did not seem to improve to a large extent. So I used Sure's local Speed Test facility again and obtained the following results.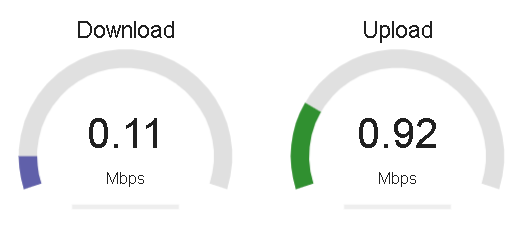 Broadband package Speed Test at a local Hotspot
Over the next few days, I ran the Speed Test at other Sure Hotspots and achieved similar results: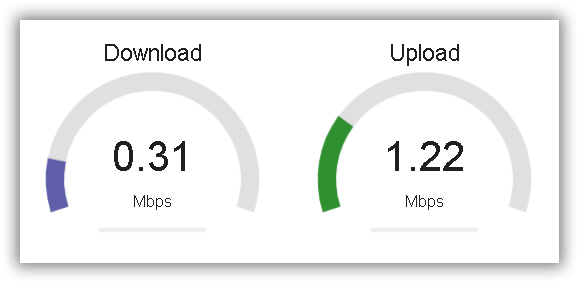 Broadband package Speed test at a West Store Hotspot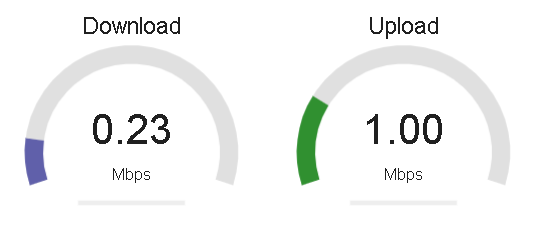 Malvina Hotel bar (with a beer in hand!)
Running a Ping test to Sure's Speed Test Server showed similar results as before – around 20mS demonstrating no congestion but very low download speeds.

Ping the Speed Test located at Sure's offices in Stanley.
I have to say that these results were not quite what I was expecting, but what do Sure's broadband customers expect? I asked them.
Broadband customers' expectations of using their packages at Sure Hotspots.
After obtaining these – to me – surprising results, I took the opportunity of asking Sure's customers what performance they would expect from their broadband package when accessing them at a Sure Hotspot. Their consistent views did not come as a surprise though.
They all expected more mediocre performance. When asked why they put it down to the Hotspot being populated by many other users which causes 'air-side' Wi-Fi congestion.
This sounds reasonable, but I then asked what speed would they expect if they were the only user at the Hotspot?  The consistent response was that it should be near to the maximum download speed of their broadband package experienced at home.
I asked them whether a package should have Hotspot download speeds similar to using correctly-configured Wi-Fi at their home? Again, the assumption was "Yes".
When I said that the maximum download speed at any Hotspot I had seen was 0.3Mbit/s but averaged 0.2 Mbit/s, they were quite surprised as well.
I still had no idea why I got the results I did.
Let's get to sheep-shearing on the last day of November
End-of-month issues are such a well-known phenomenon on the Falkland islands that I feel there is little I can add. For non-islander readers, all Falkland Islands' Internet users have a monthly usage quota that must be used up by the end of each month. If they are not, then the unused quota is discarded which leads to a last-day-of-the-month panic to use up the quota. This results in bad congestion, poor low download speeds and frustration.
I spent the last two days of November on Bleaker Island having a great time looking at local wildlife and experiencing a day when sheep were being sheared.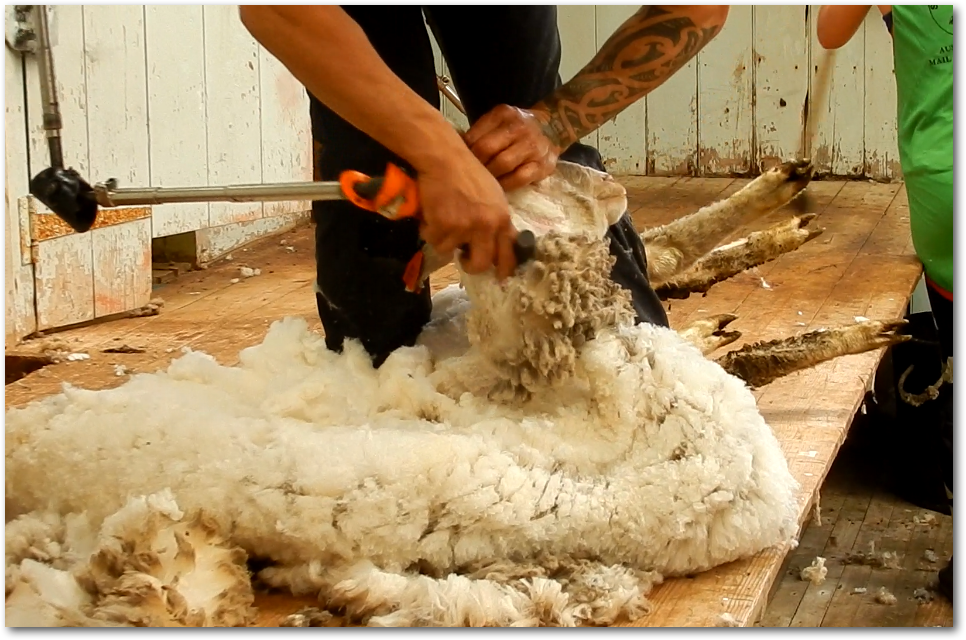 Sheep shearing on Bleaker Island
Of course, I wanted to keep up with emails, talk with my wife and wanting to post pictures of penguins, Sea Lions, Cormorants and sheep shearing. I had no luck, however, as I could pretty much do absolutely nothing as may be seen below.

Outlook email failing to connect to my server in the UK.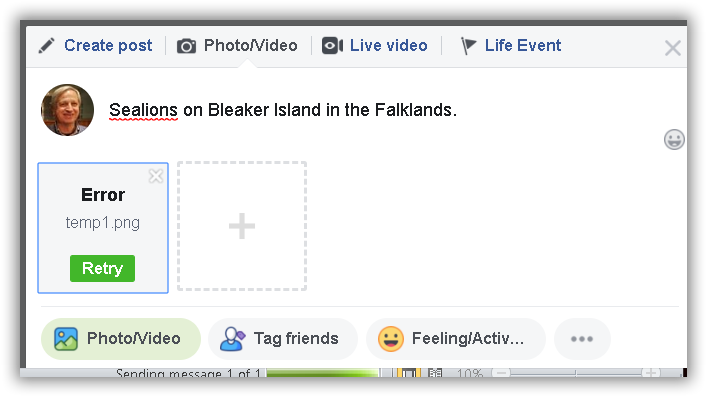 Failing to upload a photo of Sea lions on Facebook
Why should this be? The following Speed Test result on Sure's Stanley server gave me a maximum of 0.01Mbit/s.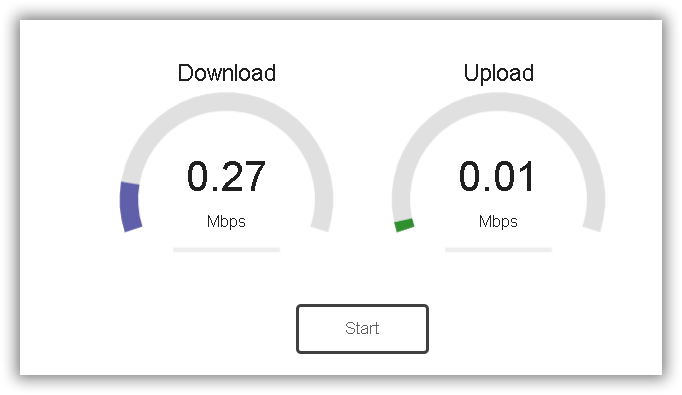 Bleaker Island's upload speed at the end of the month
I also ran a test to an off-island Ookla Speed Test to see what that indicated. Yes, it was 0.0Mbit/s! At least I could download the speed test home page.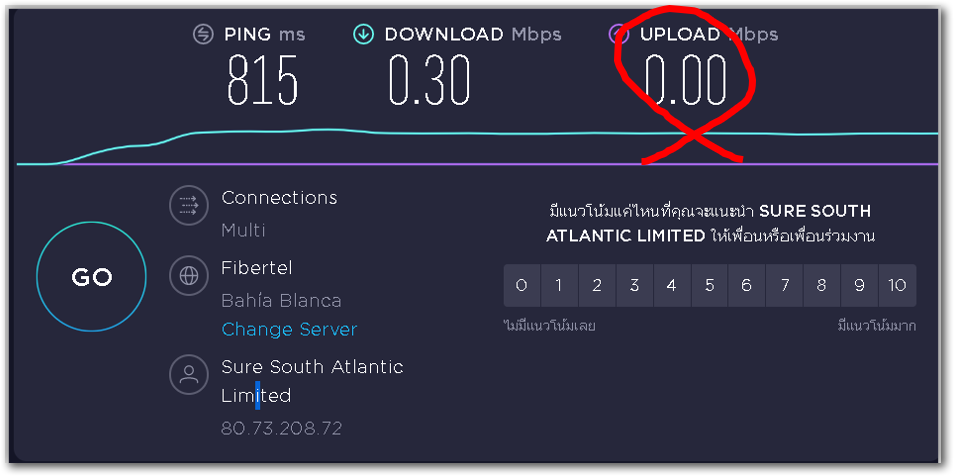 Speed Test to an off-island Speed Test server
No wonder I could not use the Internet at all for anything productive. This view was reflected in a more stark manner by other guests.
I was able to log-on instantaneously and could reliably Ping the Sure Speed test server in Stanley but there was no upload IP connectivity.
So what are my conjectures?
Why should the speeds of a broadband package be so low at a Sure Hotspot?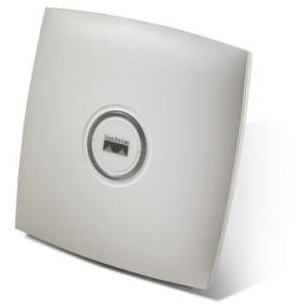 Local Hotspot user congestion?: Is it because a lot of customers were concurrently using Hotspots? No. I made sure there was only me using a Hotspot when making tests.
The equipment used for Sure's Hotspots to blame? No. This was a Cisco 1130AG Series Aironet wireless Access Point (AP). This is a pretty standard wireless AP that uses 802.11a protocol with a total capacity of 54 Mbit/s at a distance of 24 metres.
Local IP network congestion: Was there congestion on the IP links from the Hotspot to Sure's facilities? No. I am confident in suggesting not.
MPA military overload:  Could There be congestion from the many Hotspots located at MPA? No. I would say no, as they would be connected to Sure through a separate Virtual Private Network (VPN) I would have thought.
An incentive to use 4G? It was suggested to me that the download speeds are so slow compared to 4G to act as an incentive to upgrade. 4G uptake on the island is way lower than on other islands I have been told so this would be a useful sales tactic. No. Unlikely though I think.
Although I didn't do many tests, I found 4G download speeds to around 2Mbit/s.
Are download speeds severely throttled (Rate Limited)? Yes. I conjecture that download speeds of standard broadband packages, when accessed at a Hotspot, are severely throttled back by a planned policy from around 5Mbit/s to 0.3Mbit/s.
I did not find any exceptions to this around the islands. Is this because Sure are concerned that congestion will occur if higher download speeds are allowed on Hotspots? It is hard to say without facts, but I would have thought this would not be the case. 
So what are my conclusions?
I found accessing the Internet through Hotspots extraordinarily frustrating making them almost unusable.
More importantly, customers expect that the maximum speeds they experience when using Hotspots should be much closer to the maximum speeds they experience at home and if not, why not?
Customers need to understand why this is not the case.
There may be sound technical reasons for the throttling, but customers need to understand what these are. However, if it is a defined and managed policy used to limit congestion, it is undoubtedly broken when customers get 0.01Mbit/s upload speeds – even if that was the last day of the month.
Lastly, I would hope that some of the additional satellite capacity that is available since December 1st is allocated to Hotspots as it is certainly needed.
Copyright: December 2019, OpenFalklands