Summary
I have been sending Short Messaging Service (SMS) texts to some Falklands Islands residents from the UK but the reply texts have not arrived back to my Vodafone smartphone.
---
Update 11th May 2019
Looking at one or two Sure Falkland Islands monthly bills for April 2019, I see that the SMS texts that were sent to me in the UK as a Vodafone customer have been charged for at the tariff rate of 25 pence even though they were not delivered.
Here is an example of charges without associated refunds.

SMS texts are not a guaranteed reliable service and will not have a "100% success rate" (as stated below in Sure's Facebook post below), but charges made for non-delivered texts is questionable.
Whether Sure Falkland Islands actually receive non-delivery messages back from receiving mobile network operators in the UK when deliveries fail, depends on the type of SMS Agreement they have with them. If they do, then they should be able to provide refunds.
It seems unusual that Sure South Atlantic (or Sure International or Sure Group) are not centrally managing SMS Agreements on Guernsey and including all of their islands on common AA. 19 Agreements. This would be the most efficient way of managing things and remove the management load of doing this from the small team in Sure Falkland Islands?
If Sure South Atlantic are unable to be confident that overseas SMSs are being delivered then it is questionable that they should be charging for them at all I would have thought? I can't believe that there are many SMSs being sent these days overseas when there is such widespread use of Internet messaging which is so reliable.
In Europe this is not an issue, as SMS texting is very reliable as can be seen in the example from a Netherlands Mobile Network Operator shows. Over 90% are delivered in less than 5 seconds and a non-delivery rate as low as 4% which were probablt due to customer errors.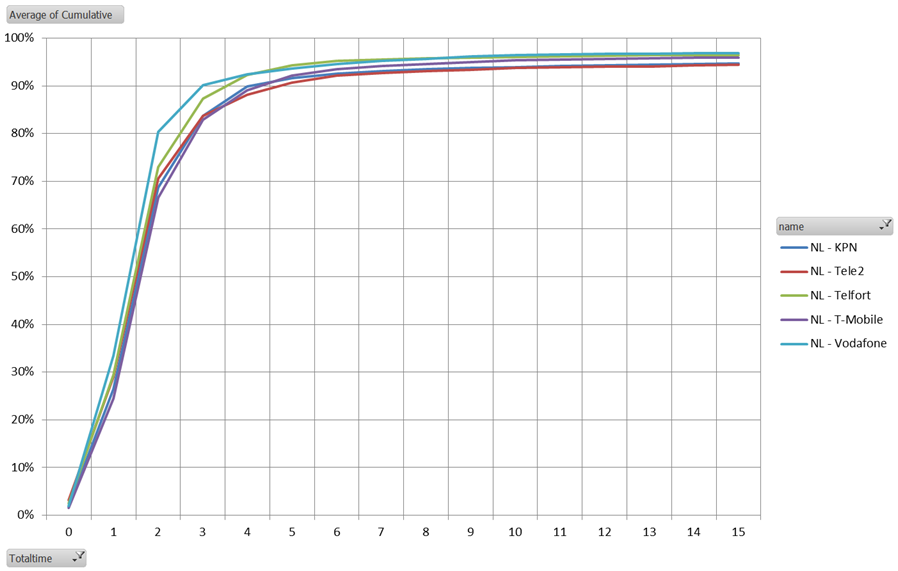 Example SMS delivery errors for an Eu Mobile Nework Operator
---
Update 7th May 2019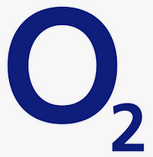 I have talked about SMS text issues with Vodafone and 3 in this post, so I would like to complete this discussion on SMS text delivery by looking at O2 and EE,
There were mixed comments made on Facebook by Sure Falkland Islands' customers about delivery errors and delivery successes in regard to SMS texts sent to UK O2 and EE customers. My own results, although only few in number, were mixed as well – some worked and some didn't. I am not able to identify what caused these non-delivery issues and that is why it important that customer help is given to Sure Falklands Islands to investgate this as they propose in their Facebook page below.
Overall, looking at all the four major UK Mobile Network Operators (MNOs), there seems that a lot of work needs to be done to make the service reliable enough to reliably support two-step Verification (2SV).
It's without doubt that 2SV threw a lifeline to SMS services which was dying on the vine  but that is a very important lifeline!
---
Update 7th May 2019
Following the publication of the two OpenFalklands posts concerned with the perforrmance of the Falkland Islands SMS services in the last week –
I welcome the positive step taken by Sure Falkland Islands in posting a message on their company's Face book page and asking their customers to help them identify the issues that are causing the delays and delivery failure of SMS texts.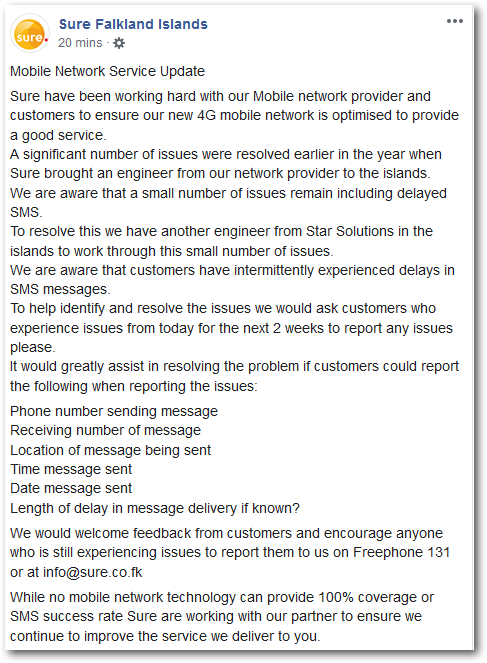 Sure Falkland Island's recent Facebook post
I will actively encourage all Sure Falkland Islands' customers who are are experiencing excessive delays for in-island SMS texts or delivery failure of overseas family and friends to provide Sure Falkland Islands to provide appropriate examples to info@sure.co.fk.
This will help Sure Falkland Islands put the spotlight on the issues in the  local network causing the problems and where the lack of appropriate inter-working relationships with overseas mobile network operators hinder delivery of SMS texts.
I would expect local issues could be sorted out quite quickly but the overseas delivery issues will clearly take more time as they ivolve realtionships with 3rd parties.
I really look forward to seeing further posts from Sure Falkland Islands updating their customers as to the state of their progress in this matter.
I would also encourage Sure Falkland Islands to take opportunity of the strong use of social media on the islands to provide many more updates on the state of the telecommunications services they provide. This could only be seen a positive step by their customers and businesses alike.
I wish the Sure Falkland Islands engineers success in their activities in coming weeks!
p.s. I look forward to seeing a post concerning .fk DNS mirroring in due course.
---
Update: 5th May 2019


After identifying an issue with the delivery of SMS text messages originating on the Falkland Islands, I asked Facebook readers to run a few tests to see whether there were issues sending SMS texts to other UK mobile companies.
However, in respect of '3' – one of the four major Mobile Network Operators (MNOs) in the UK – the case is clear cut. Indeed, the current situation is rather ironic as 3 were the UK market leader in deploying 4G! Although they are the smallest of the big four, they have 12% of the market, they are probably the most innovative.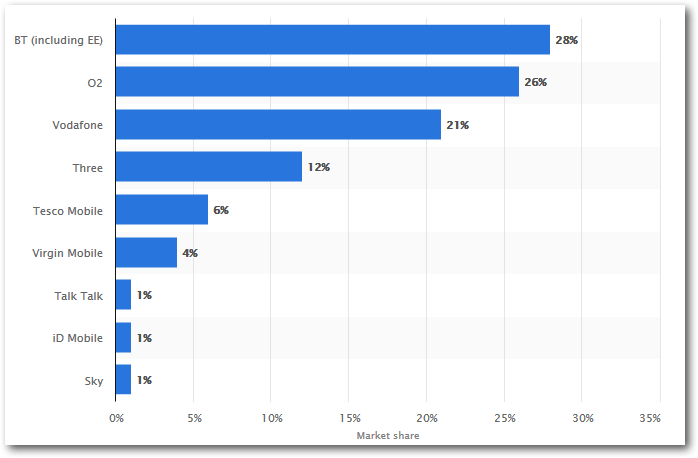 UK mobile operator market shares Source: Statista
When talking about 3 in respect of the Falkland Islands, the picture below taken from their web site says it all: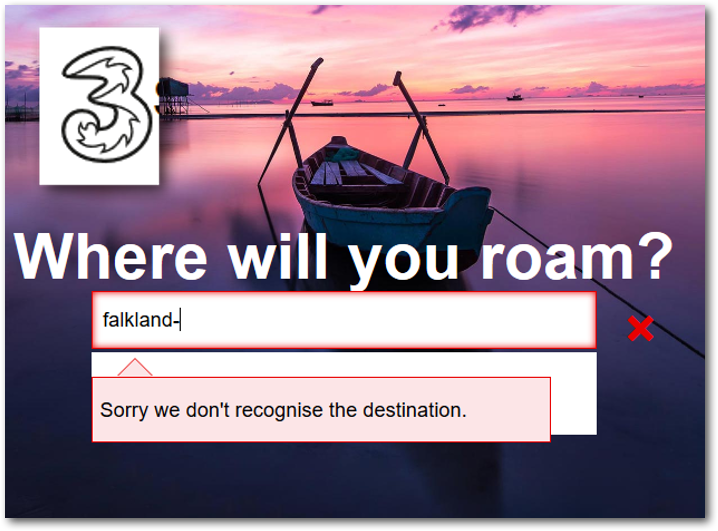 Although this post is not about  roaming agreements, it is interesting to see that although there are roaming agreements with Vodafone, O2 and EE there isn't one exist for 3. So anyone visiting the islands who use 3 as a mobile service provider will be unable to use their nice expensive smartphones even on the Falkland Islands' new 4G service. I am particularly concerned about UK miltary visitors which there must be plenty come on short visits.
If Sure have not undertaken the work and costs required for a Roaming Agreement with 3 there surely would be no SMS AA. 19 Agreement for SMS messages.
As things stand, the only way SMS texts could be received by UK 3 users would be if Sure Falkland Islands used an SMS hub such as SAP. However, it is more than likely that if there is no Roaming Agreement in place between the two companies any SMS traffic would be blocked by 3 to reduce costs and prevent SPAM.
Proposed solution:
Now that £3m have been spent on creating a 4G mobile network in Stanley, the fundamental / foundation commercial mobile operator Inter-working Agreements – especially in-bound roaming – that are needed should be put in place by Sure Falkland Islands. These are so fundamental that any concern about cost-effectiveness of such Agreements should not be considered an hinderance. Agreements are not required if SAP hub is used and 3 agree not to block SMSs  originating from 00500 code.
Also, the state of these relationships needs to be available on Sure Falkland Islands web pages to cut down conjecture and frustration as happens in with other mobile operators.
If the uptake of 4G on the Falkland Islands has been slow – only 30% – according to what was stated in Communications Week in March, correcting this situation with 3 should contribute to increasing consumers confidence to upgrade.
In the meantime, if your families, friends or business colleagues have a 3 smartphone then you should probably stick to using WhatsApp.
---
Background
Back in mid-April 2019 a Falkland Island Internet user posted the following message on Facebook:
"For any HSBC customers who hold a UK account: HSBC have now moved to text messaging for authorising any new online transactions on HSBC Visa cards, and it doesn't currently work with the mobile network here, the texts never appear."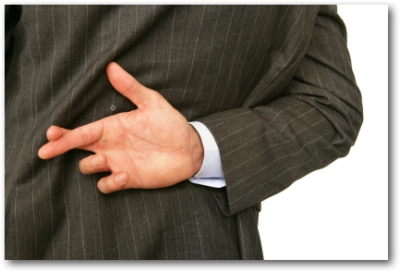 This intrigued me from two points of interest:
The reliability of the basic Sure Falkland Islands SMS service.
The challenge of '2-step verification (2SV)' on the Falkland Islands that uses SMS as the delivery mechanism. I will talk about this in more detail in a future post.
Over the last few years the world of messaging has been transformed by the move away from mobile phone SMS texts to messaging apps such as Snapchat, WhatsApp or Facebook Messaging. This has been driven by the features they provide and the convenience of use.
This has left the world of SMS texts from a messaging perspective as being seen as a rather a backwater service in the Falkland Islands. However, with the current growing trend to increase security on Internet-based services such as on-line shopping and banking, the need for a reliabile SMS texting is becoming increasingly important as the principle delivery mechanism of a code sent to your mobile phone is via SMS texts.
These codes are time limited and expire quite quickly so if there are any delays in delivering the code or responding they time out. This is of particular concern for the Falkland Island Internet users.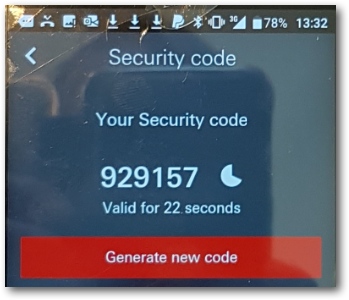 HSBC Digital Secure Key – 22 seconds and counting!

For example, the HSBC Digital Secure Key only allows 30 seconds for you to key in your code and that includes the time taken to communicate to the bank's datacentre.
This will be a slowly evolving post as information is gleaned and/or better understood. But, also because it is a big and challenging subject and anything to do with telecommunications is complicated (!) so it is better addressed in bite-sized chunks.
The first bite-sized chink I'd like to talk about is SMS texts sent to Vodafone or their customers.
Falkland Islands' originating SMS texts to Vodafone customers

As I am a Vodafone mobile phone user in the UK, my first instinct was to send an SMS text to a friend on the Falkland Islands. I asked them to immediately respond by sending a reply SMS text to me.
This is a very simple test, but much to my surprise it failed. I tried the same test with other Falkland Islanders and they also failed.
Sure Falkland Islands did not return any error messages to the Falkland Island senders so their customers incorrectly assumed the SMS text had been sent and received by me via Vodafone in the UK when they hadn't.
This also meant – I have to assume –  that Sure Falkland Islands charged the Falkland Islands senders 25p for sending the international SMS texts that did not arrive. I would also assume that if this was the case, a refund would be applied as a non-delivery message would have been sent back to Sure Falkland Islands. The current tariffs can be seen below.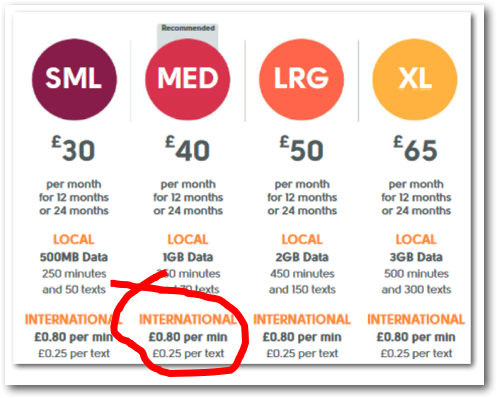 Sure Falkland Islands' tariff sheet.
Vodafones' roaming page states:
*Unfortunately we don't support picture messaging or data services in The Falkland Islands. You can still make calls, send texts and access Wi-Fi services
How could this happen?
Like any other aspect of telecommunications the sending and receiving of SMS text messages is a horrendously complex process involving many organisations, commercial / technical Agreements and adherence to standards and network inter-working procedures.
There is a worldwide industry accepted practice that all INCOMING-TO-COUNTRY SMS text messages will be delivered unconditionally to a recipient's mobile phone. This is very important practice as it represents a basic need for roaming services and for emergency contact etc.
However, OUTGOING INTERNATIONAL SMS text messages are an altogether different matter.
There are three ways Sure Falkland Islands could inter-connect with Vodafone to deliver SMS texts to their customers:
Have a signed AA.19 Agreement for a direct connection to Vodafone.
Reroute SMS texts via an independent SMS hub company to avoid Vodafone's charges (this is very common).
Vodafone could just accept Sure Falkland Islands' SMS texts on a 'just-do-it' basis because the level of SMS traffic involved is so low. This approach may have been acceptable in the past but I doubt that it would be the case now. It would represent a reliable long-term approach to adopt.
Upon investigation, it looks like a high proportion of Falkland Island Sure Falkland Islands originating SMS texts are not being delivered by Vodafone. The most likely cause of this is that they are being blocked on receipt by Vodafone. Some are getting through, but it would depend on where the SMS texts are arriving from at Vodafone's International SMS gateway.
SMS texts could arrive direct from Sure Falkland Islands on the basis of an old Agreement between Sure South Atlantic and Vodafone; or they could arrive from an 'SMS hub exchange' as discussed above. The role of these exchanges are straightforward to understand. Without them, a local carrier such as Sure South Atlantic would need to have SMS Agreements with all the major mobile operators around the world. This would be exceedingly onerous and expensive to achieve.
The SMS hub acts as a collection hub for local mobile operators around the world with a single connection and single Agreement. The SMS exchange then manages SMS interchange Agreements with global or country mobile operators. There are many of these and it is a highly competitive market with local mobile operators often going for the cheapest partner on a spot market. An international SMS text can pass through nine hubs before arriving at its destination.
One of the biggest SMS hub companies is SAP Digital Interconnect and it would be odds-on that Sure Falkland Islands have an Agreement with them.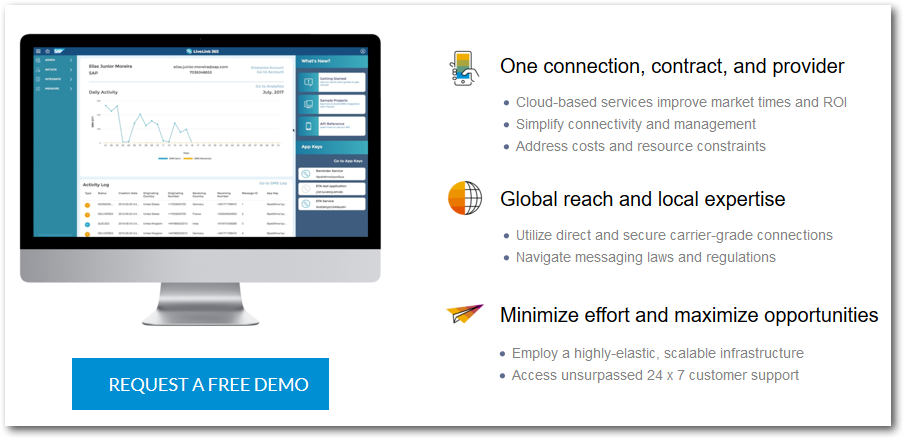 SAPs strap line is One connection, contract and provider
As SAP is a large market player, Vodafone will have an Agreement with them and Falkland Islands originating SMS texts sent via SAP will always be delivered to Vodafone's customers.
If this is the case why would Sure Falkland Islands send SMS texts sent to a Vodafone customer direct to Vodafone when they can get it delivered equally well via SAP? If they were sent direct, why would Vodafone not deliver them?
The answer to that most likely involves the GSM Association (GSMA).
"The GSMA represents the interests of mobile operators worldwide, uniting more than 750 operators with almost 400 companies in the broader mobile ecosystem, including handset and device makers, software companies, equipment providers and internet companies, as well as organisations in adjacent industry sectors."
The GSMA manages inter-country roaming and also creates and manages many, if not most, of the mobile industry commercial Agreements. Sure Falkland Islands' record on the GSMA database can be seen here. Sure Falkland Islands has Roaming agreements with all the following operators around the world. Though roaming Agrrements have nothing to do with the subject matter discussed in this post,
A totally separate Agreement is required for Vodafone to accept directly delivered SMS texts from Sure Falkland Islands customers to Vodafone customers.
Why would SMS texts sent direct to Vodafone from Sure Falkland Islands not be delivered?
It turns out that the GSMA sent out a forwarded email concerning SPAM from Vodafone to all mobile operators around the world on March 29th 2019. Sure Falkland Islands would have received this. It states, paraphrasing:
"Vodafone UK have decided to take active steps to protect our subscribers from an increasing number of Spam SMS terminating on the Vodafone UK network.

In order to reduce the number of Spam Messages, Vodafone UK will be closing all SS7 SMS routes not covered by an AA.19 or AA.60 Agreement from 12th April 2019.

Should you not wish to implement a new AA.19 agreement, it is important that you take the necessary actions to migrate your SMS traffic destined to Vodafone UK to the SAP SMS Hub"
The 73 page Agreement can be seen here:  GSMA Agreement for International SMS Hubbing Services .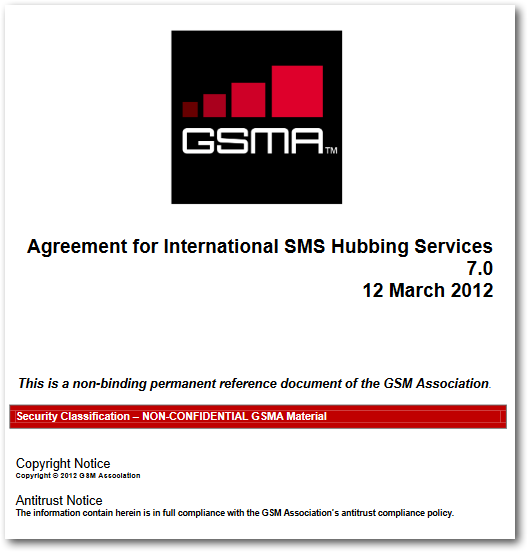 The GSMA SMS hubbing services Agreement.
I would think that the reason I did not receive the SMS text messages on my Vodafone mobile phone is that Sure Falkland Islands has either not completed an AA.19 Agreement or has not forwarding all of its SMS traffic to the SAP SMS hub. I do not know what SMS Agreement, if any, Sure Falkland Islands had with Vodafone prior to April 12th 2019 but SMS would certainly be blocked from April 11th 2019 if Sure Falkland Islands did not response to Vodafone's request.
Why would Sure Falkland Islands in the Falkland Islands not respond and carry on forwarding them to Vodafone only to be rejected since April 12th 2019? Or send all SMSs via the SAP SMS hub?
And, possibly continue to carry on charging customers and not notifying them of a failed delivery of an International SMS in spite of some SMS texts not being delivered.
There could be several reasons I suppose:
Are SMS Agreements signed by the Sure Group or the individual islands? I do not know, but this would impact who is the cause. I assume it is Sure Falkland Islands.
It would cost a lot of money to hire lawyers to negotiate the AA. 19 contract with Vodafone and as there are so few SMS messages being sent it could be considered uneconomic to do so (unless they were signed by the Sure Group). If this was the case, all SMS texts should have been sent vis an SMS hub e.g. SAP.
Sure Falkland Islands received the GSMA email but have not yet actioned it by forwarding all of their SMS texts to SAP SMS hub.
There is an industry 'get out clause' that states that SMS text service is unreliable data service (like the Internet) and they cannot be held responsible for undelivered SMS texts although this is not stated in Sure Falkland Islands' Code of Practice.
So, there you have it, you know as much as I do now about why I did not receive my SMS texts from the Falkland Islands on my Vodafone smartphone last weekend.
I would encourage Sure Falkland Islands to resolve this situation as soon as possible aling the lines requested by Vodafone above.
Chris Gare, May 2019 Copyright: OpenFalklands.com